---
---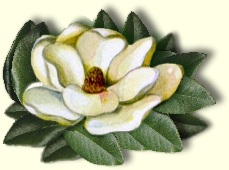 Melba's Southern Families
By Melba Goff Allen
All Southern families are familiar with Magnolia's, their dark green foliage and the beautiful blossoms. Two Southern States, Mississippi and Louisiana claim the beautiful flower as their state flower.

Allen Family with Documentation

If you have EARLY Allen Family Documentation, please share! So many are trying to connect their lineage to the early Allen's in Virginia, and in Maryland. Send to melbaallen36@bellsouth.net

Matthew Carter

Unveiling of his Revolutionary Stone, the 6th of November, 2010 in Jackson County, Mississipp. Matthew was born about 1745 to 1750 in North Carolina and died 2 April, 1812 in the Mississippi Territory now known as Jackson County, Mississippi. Matthew came in 1811 from Bulloch County, Georgia with family and died one year after his arrival. He is buried on a portion of land that he owned and his descendants fell heir too his land holding after his death. Matthew served under the Swampfox General Francis Marion of South Carolina. He will have full honors by the Sons of American Revolutionary and the Daughters of American Revolutionary, plus other Dignitaries and speakers. If you are a descendant of Matthew Carter or of his wife Cassandra Barbour and would like for your family to be included in a family History book, please send email.

Send to melbaallen36@bellsouth.net or

1genealogyresearcher@gmail.com
---
Hello, glad you stopped by.


If you are searching for Southern Roots then this is the site.
Visit the main Index page on Melba's Southern Families to see families name listed and the family history.

---

SEARCH ENGINE


Can't find the name? Then use the search engine at the bottom of this page. Every name is no longer indexed.




---

Your Family


Are They Listed Here?
Jackson County Mississippi is my home County and State. Recently The Jackson County Historical and Genealogical Society's have emerged into one. A request to link to the site has been made. If you have ties to Jackson County please visit the new website. Jackson County Historical & Genealogical Society

The Jackson/George Regional Genealogy Library in Pascagoula, Mississippi has a wealth of information on Family History and Family History Books. Not only do they house many records from the State of Mississippi but all across the Southern States. Visit their online page at Jackson-George Regional Library

There are and were so many wonderful families in the South. It's difficult to try and decide which family takes priority over the other too research and work. "IF YOU" have your Family History typed out and ready to edit, I will try and place it on Southern Families. I do not have the time to type Family Histories for the many who request their families be included on Southern Families. Help me to help you, the researcher.


---
Photo's of a Batson Family or a related family has been donated by Kathy Hillman of Texas. The family is believed to be from the Hattiesburg, Mississippi area. Please take a look to see if you know these individuals.
Batson Photo's

Do you descend from John Willis Tanner and his wife Mary D. Baker who lived in Jackson County, Mississippi? See their family and their photo's.
Tanner's

Family History Books
Revolutionary Soldier
Of Duplin & Sampson Co. NC
---
Update Miles Stone

ALLEN'S
Are you an ALLEN descendant? I would appreciate your help on the Allen Families from Wake County, North Carolina and the early Allen's who lived in Stewart/Montgomery County Tennessee and came to Marengo County, Alabama by 1830. Joseph Allen was in Marengo by 1830 when the census was taken. Complete Now!

There are to many Allen families to list on this main page. For the Allen families go to the Index page, where there are many families listed.Allen Index page

This is an old cemetery!
John Allen Cemetery in Hinds Co. MS.
John Allen of GA. & Bibb Co. AL.
Charles Allen 1730 VA
Allen Marriages of Alabama
Allen Marriage of Mississippi
Allen Immigrants to VA

---

Other Mississippi Links:


Amite Co. MS.
Chickasaw Co. MS.
Clarke Co. MS.
Covington Co. MS.
Forrest Co. MS.
Greene Co. MS.
Harrison Co. MS.
Holmes Co. MS.
Jackson Co. MS.
Jasper Co. MS.
Lamar Co. MS.
Stone Co. MS.
Perry Co. MS.
---
Other Marriages in Southern States
Sheffield Marriages
Barker Marriages in AR.
Carter Marriages in MS.
Edward Marriages in NC.
McLendon Marriages in MS.
McLendon Marriages in AR.
McLendon Marriages in TX.
McLendon Marriages in TN.

---

ALABAMA
Jackson Co. Alabama Marriages
Mobile Co. AL. Marriages A thru H
Wilcox Co. AL Marriages
1824 Mobile Register Excerpts
Cemeteries of Mobile and Washington Co. Alabama
By Lisa McKinney of Mobile, AL.
Palestine Cemetery Wilmer, AL
Alabama Military Sites (all wars)
Revolutionary Soldiers who lived in Alabama
Alabama 29 Infantry


DEATH RECORDS, INCLUDES MANY STATES.
If you use the search engine, type in Death record and no name
Address and Price of Vital Records in MS Vital Records for "All States"

---
Updated and Added More Family Bible Records
BIBLE RECORDS

---
Early Birth and Baptismal Records
---
Sheffield Families
A lot of research went into the Sheffield families and collectral lines the later part of 1999. Sheffield
---
If you have Southern Families that you would like to see on these web pages email me with details.
---
ALDERMAN,
ALLEN,
ARMSTRONG
BALL,
BANKS,
BARBOUR,
BARKER,
BARLOW,
BARIA,
BATSON,
BELL,
BILBO,
BLAND,
BLANTON,
BOND,
BRAY,
BROOM,
BRYANT,
BOUNDS,
BURLESON,
BUSH,
BURTON,
BYRD,
CARPENTER,
CARTER,
CHANDLER,
COLEMAN,
COMBE'
CONE
CONWAY
COUCH,
COULTER,
COMBEST/CUMBEST,
COPELAND
CONERLY,
CUNNINGHAM,
DANIEL,
DAVIDSON,
DAVIS,
DEAN,
DENMARK,
DICKENS,
DICKERSON,
DIGBY,
DRAKE,
DUNCAN,
DUNN,
EDWARDS,
ELKINS,
ELY,
EUBANKS,
EVERETTE,
FAGGARD,
FAIRLEY,
FAIRCHILD,
FELDER,
FLETCHER,
FOREHAND,
FOSTER,
FRANCK,
FULLER,
GIBSON,
GOFF
GRANTHAM,
GRAY,
GRAHAM,
GRANBERRY,
GREEN,
GUICE,
HALL,
HARRISON,
HENDERSON,
HENESSEY
HIGHT,
HUDSON,
JOHNSON,
JONES,
KIBBY,
KING,
KELLY,
KENNEDY,
KIRKLAND,
LAMB,
LANDRUM,
LANE,
LEE,
LIEBLONG,
LOTT,
LYONS,
MATHEWS,
MATHIS,
MAY,
McLENDON,
McRAE,
MCVEAY,
MENGERSDORFF,
MILLER,
MILLSAPS,
MINGE,
MIZELLE,
MOODY,
MOORE,
MOUNGER,
NELSON,
NEWTON,
PARKER,
PEARCE
PENDARVIS,
PIERCE,
PIGOTT,
PILLEY,
POOL,
RAINEY,
RAWLS,
REEVES,
RESTER,
RICE,
ROBERTS,
ROBINSON,
ROGERS,
ROUSE,
RYAN,
SANDELL,
SCREWS,
SCROGGINS,
SEAMAN,
SHEFFIELD,
SHINE,
SIBLEY,
SMITH,
SMYRL,
STANSBURY,
STONE,
STUBBLEFIELD
SUTTLE,
SUTTON,
TANNER,
TAYLOR,
THACKER,
THIGPEN,
THOMSON,
TOWNSEND,
TRAVIS,
TUTEN,
VAUGHAN,
VICE
WALKER,
WALLACE,
WARD,
WARE,
WARREN,
WATTS,
WELLS,
WEEKS,
WHITTINGTON,
WILLIAMS,
WILSON,
WOODRUFF,
WOODSON,
---
Other Research Sources
Final Rolls of Tribes


LDS Online
MS.Gen.WEB
GenForum
Ancestry Research
Family Treemaker
GenConnect Rootsweb
Archive Search Engine
Land Patent Records
Census Online for "ALL" States.
1624 Jamestown Census
Immigration and Naturalization Records
"MAPS" of Country, Cites and Towns
MS COUNTY FORMATIONS
"GENEALOGY" Many homepages for researchers.
Links2go

---
Military Sites and Cemetery
---
LIBRARIES
MS Public Library System/Director with email address
University of South Mississippi
Collection of Southern History
Libraries Serving "Genealogist"
Library Of Congress
Archive Search Engine
---
Genealogical Societies
South Mississippi Genealogical Society is now online. Check them out for a lot of good information!MGS

---
All names are not indexed, use the search engine to find a lost relative. Use the back button to come back to Melba's Southern Families Index page

---
Thank you for your visit! Since I put the counter on in Dec. of 1997, there has been so many visit until my counter could not keep up and jammed. It jammed for the second time on 64,000 visits. I had to re-start from -0-. It is a popular site and I appreciate your visit and hope you found a relative on Southern Families. Melba

---
<
---

---