---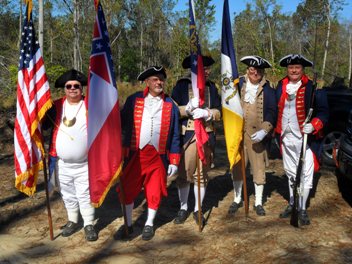 L to R Ed Holland and John Sumner MS Color Guard
Robert Cruthrids GA color Guard
Royce Stringer and John Taylor MS Color Guard


Matthew Carter
Revolutionary Patriot Honored
---
Matthew Carter Revolutionary Soldier was honored Saturday November 6, 2010 with the unveiling of his Revolutionary Marker in Jackson County, Mississippi.

Saturday was a beautiful sunny day with blue skies above to send rays of light down on the 250 individuals who attend the ceremony. Many were descendants of Matthew Carter.

The ceremony began at 1:PM at the old Carter Cemetery located in North Jackson County, Mississippi. Matthew was the first to be buried 1812 in the family cemetery plot. It was located on land where he had a land grant in 1811.

Matthew was the first Revolutionary Patriot to have a Revolutionary Marker in Jackson County.

The following taken from my speech that was read at the ceremony.

It is an honor and privilege to stand before you this afternoon and tell you something about the Life and History of Matthew Carter and his wife Cassandra.

Today is the results of about 40 years of research on the Carter family. The last 6 months has been very stressful and today is an emotional occasion. Going back in time gives the feeling of actually knowing Matthew Carter," Today we give honor".

Matthew & Cassandra along with family members lived about ˝ mile west of where we are gathered this afternoon. They lived on a high ridge near the Pascagoula River and in a time of high water they were surrounded by freshet.

This being the reason the cemetery is located here on high land. Matthew has been deceased 198 years and Cassandra 177 years.

Matthew Carter was born between 1745 and 1750 in North Carolina. As a young man he moved to South Carolina with his father, Matthew Carter Sr.

Matthew was a Pvt. in the Revolution with Francis Marion Brigade in the South Carolina Militia and served 40 days. In 1782 he was paid 2 lbs, 16 shillings and eighth pence for his service and 2lbs three shillings and 7 pence in sterling shillings for 170 lbs of beef.

Matthew married in South Carolina to Cassandra Barbour born 1760 on the Pee Dee River in North Carolina and died 1833 in Jackson County. She was the daughter of Revolutionary Patriot William Barbour.

16 th April, 1811 the Governor of Georgia signed a passport for Matthew Carter and his family to travel through the Creek Nation of Indians from Bulloch County , Georgia to the Mississippi Territory.

A Letter dated 11th June 1811 from Matthew Carter to his daughter Susanna who married Griffin Mizelle and remained in Georgia: Wording is not altered.

I embrace this opportunity of informing you that we are all in common health at present. Hoping that these lines will find you well. In five weaks and 2 days we arrive at Chickashwhay without any loss or disappointment of note.

We expect in a few days to set out for the Pascagoula where I have choosed me a place and there expect to settle myself, son William and William Goff all neare together. I am well pleased with the prospect of the country for I think its good. That is the Cain land, water and range. How the trade will be is unknown. Now things can be got reasonable. Provisions is hi (high) but we have lade (laid) in a supply of corn and have 20 cows and calves. Son Matthew went on to Louisiana, and later lived on the West Side of the Pascagoula River.

The following was written 1 March, 1813 from Son Matthew Carter to his sister Susanna Mizelle in Georgia telling of their father's death. He was taken in October with a pain in his shoulder which continued several weeks and in the time he hurt his leg and a fever fell in it and it was likely to mortify. He was several weeks not able to get out of the house without his crutches, and in a short time after his leg got well he was taken in a lingering condition which continued until he was not able to get out of his bed. He was then taken with fits which continued until he died. He lay several weeks in his bed and continued to get weaker until the 2nd of April in the afternoon, when it pleased God to take him out of this troublesome world.

Matthew and Cassandra Carter were the parents of six children. Susanna, Matthew, William, Naomi, Cassandra and Jane. All of Matthew Carter's children came to Mississippi with the exception of Susanna.

---

To Go Back To Home Page

---